This is my first time ever to join a baking event ! This monthly project was created by Jennifer of
The Domestic Goddess
but to my understanding ,this 43# Sugar High Friday : Citrus is hosted by Helen of
Tartelette
which both of them are my favorite cooks and bakers.
Honestly , I didn't think I would participate in the event to begin with when I saw
the post
for some reason.. but then the other day when I saw
Vanillaorchid
( whom I know through the blog ) post the title involved with this event ..it kind of convinced me to give it a try ! And I finally decided to join it for nothing but fun !!
To avoid any failure, I aimed for something easy ,yet interesting like this scone which I've found the recipe on
BBC Goodfood
. The title really got my attention and after looking through the recipe..bingo!!
Anyway, I adapted the original recipe just to fit my materials on hand.. Firstly, I used creamcheese while the recipe calls for ricotta and secondly,I substituted lemon zest for orange zest. The last is to reduce sugar for my own tasting bud !!
As for the result, I think it's great...at least great enough to get it posted !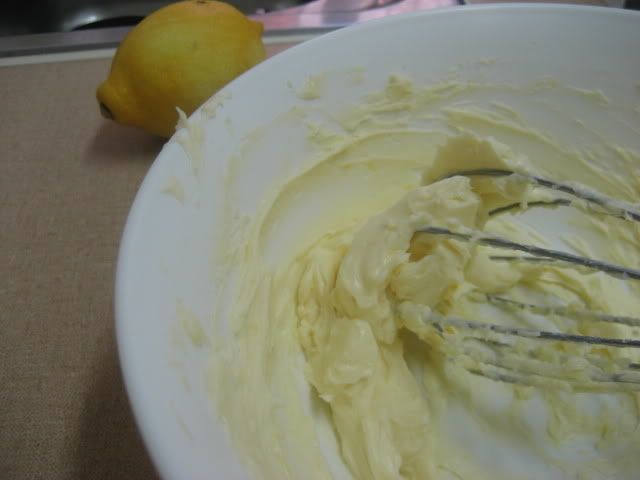 Recipe ( adapted from bbc goodfood magazine )
175g creamcheese ,softened
finely grated zest of 2 lemon
80g caster sugar
200g self-raising flour
50g butter
1-2 tbsp milk , plus extra for brushing
a little
flour
, for sprinkling
1 tbsp demerara sugar
cream or butter and lemon or orange curd, to serve
Method:
1. Preheat the oven to 200C/Gas 6/fan oven 180C and grease a baking sheet. Tip the ricotta into a bowl and mix in the orange zest and half the sugar until combined. Sift the flour and remaining sugar into another bowl. Cut the butter into small cubes and rub into the flour mixture so it looks like fine breadcrumbs.
2. Stir the ricotta mixture into the flour mixture, adding a tablespoon or two of milk if necessary to get a soft (but not sticky) dough. Tip the dough on to a floured work surface and knead very lightly a few times only - just until the dough loses its craggy look. If you overknead, the scones will be tough.
3. Roll or press out the dough until it's about 4cm/11⁄2in thick. Shape into a neat round, put it on the baking sheet and mark into six wedges with a knife.
4. Brush the top of the scone round with milk, sprinkle with a little flour, then top with the demerara sugar. Bake for 20-25 minutes until well risen and brown on top. Transfer to a wire rack to cool slightly before serving warm, spread with a little cream or butter, and lemon or orange curd. (These are best on the day of making, but will keep in an airtight container for 1-2 days, or in the freezer for up to 1 month.)