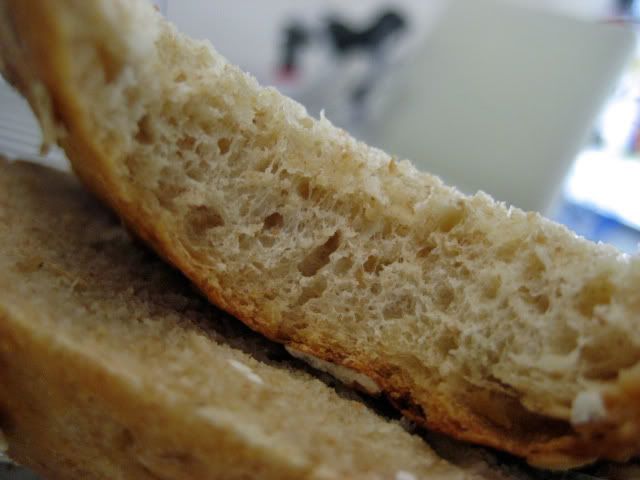 Bread is one of my favorite baked goods and it would remain on top of my lists as far as I've still done baking continuously ! An interesting bread recipe always gets my adrenalin going and I just can't wait to give it a try..not even when I am ill !!
I've found the original recipe from
here
and I like an idea of using oat as a part of bread which I never made it before and that's why I decided to give it a try ! Anyway, I modified the recipe a bit just to make sure it fits my purpose..
Here is my version
1 1/4 tsp dry yeast
2 TBsp warm water
3/4 cup + 1 tbsp warm buttermilk
2 tbsp honey
2/3 cup rolled oats (not instant) plus extra for topping
1+1/2 cup bread flour
3/4 cup whole wheat flour
1 tsp salt
2 TBsp melted butter
Method :
1. Dissolve the yeast with the water in a small bowl and leave for 10 minutes until foamy. Mix the honey with the melted butter in another bowl. Stir together the flours, the oat and salt in a mixing bowl ,then add the yeast and the honey+butter mixtures along with the buttermilk into the flours mixture, mix with a dough hook to form a ball and knead for 10-15 minutes until smooth and elastic. Place the dough in a lightly oiled bowl , cover and let it rise for about 1-1.5 hours or until double in volume.
2. Turn the dough out onto a working surface and knead for a minute to deflate the dough. Shape the dough into a loaf and place in a 8 1/2 inch greased loaf pan, cover and let rise for ± 45 minutes.
3. Preheat the oven to 400ºF. Cut the bread lengthwise, brush with an eggwash and sprinkle some oats over the top before baking.
Bake for 25-30 minutes, turn out on a wire rack to cool before slicing and serve.